MIRA VP-FESEM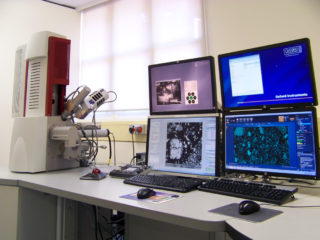 Location: Microscopy and Microanalysis Facility
Manufacturer: Tescan
Model: Mira3 XMU
Year: 2014
Building: 301
Room: 020A
The MIRA is a high performance FE-SEM with an integrated EBSD/EDS system that is capable of ultra-fast diffraction data acquisition. It has significantly increased the capacity for quantitative microstructural analysis in both existing and emergent areas of research.
High resolution Field Emission Scanning Electron Microsope (FESEM)
Monochromatic cathodoluminescence.
SE, BSE, inlens SE and inlens BSE detectors.
Fast Oxford Instruments EBSD and EDS detectors controlled by AZtec software.
STEM and EBIC detectors available.
Contact: Zakaria Quadir