In-situ XRD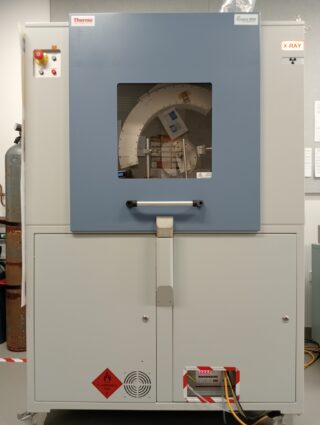 ARL EQUINOX 5000 In-situ XRD
X-Ray Diffraction and Scattering Facility
Manufacturer: Thermo Scientific
Model: ARL EQUINOX 5000
Year: 2019
Building: 310
Room: 209
The Thermo Scientific™ ARL™ EQUINOX 5000 is a multi-purpose X-ray diffractometer designed specifically for high level research applications. The system utilizes a unique tall vertical goniometer in θ/θ or θ/2θ mode and the user has a large choice of features including higher resolution detectors and a large choice of X-ray sources. The free space in the sample compartment is very large and will accommodate practically any sample and any sample handling device including furnaces, auto samplers, and large assemblies.
Uses parallel beam, Cu X-Ray tube.
Diffraction data collection for in-situ XRD is available over a wide range of temperatures (Hot air blower: 25 to 750 °C, Anton Paar HTK 1200N oven: 25 to 1,200 °C).
Investigation of phase transition and lattice parameters as a function of temperature.
Curved Position Sensitive X-ray Detector, CPS 120 (Acquisition in real time over 120° 2Theta).