Digital Mineralogy Hub Facility
The Digital Mineralogy Hub Facility has access to a Tescan Integrated Mineral Analyzer (TIMA GM) – a fully automated, high throughput, analytical Field Emission Scanning Electron Microscope (FESEM) for analysis of sample composition and morphology.
TIMA measures modal abundance, size-by-size liberation, mineral association, and performs PGM search automatically on multiple samples of grain mounts and thin or polished sections.
Techniques
Fast and fully-automated data acquisition process reached via SEM and EDX integration.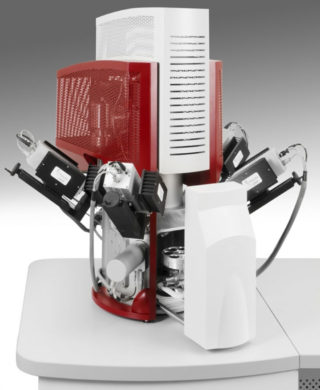 TIMA 1/3
The TESCAN TIMA is designed with a computer controlled stage that carries a specially designed mineralogical sample holder. It allows inserting up to 22 resin blocks with a diameter of 30 mm or 9 thin sections at the same time. In the center of the holder, an EDX/BSE calibration standard is placed for automatic signal calibration and system performance checks.
---
TIMA 2/3
The TIMA is equipped with an ultra-fast YAG scintillator BSE detector, complemented with four silicon drift EDX detectors in analytical geometry to cover maximum solid angle of X-ray data acquisition for high throughput analysis. Collection of EDX data is synchronized with a scanning system and BSE signal acquisition using integrated hardware.
---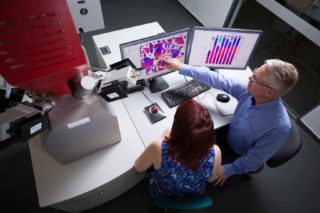 TIMA 3/3
An SE Everhart-Thornley type detector and Cathodoluminescence detector are available for complementary configurations and analysis. A chamber view camera facilitates manipulation with samples in the chamber.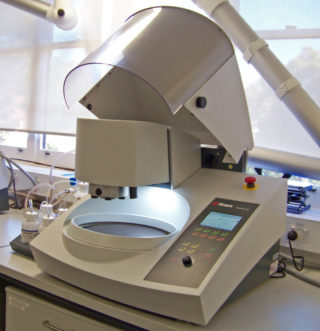 Sample Preparation Laboratory
The DMH has access to a suite of equipment that facilitates vacuum mount impregnation and manual and automated polishing that is often required to prepare samples for electron microscopy.
---
Applications
The TIMA solution addresses applications such as mineral liberation analysis, process optimization, remediation, and search for precious metals and rare earths.
Mineral mapping
Element mapping
Fast and automated SEM-EDS data collection
Grain locking analysis