X-Ray Photoelectron Spectroscopy System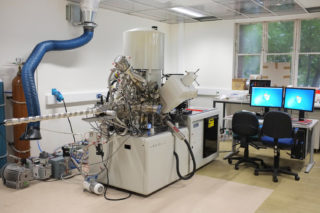 X-Ray Surface Analysis Facility
Manufacturer: Kratos
Model: AXIS Ultra DLD
Year: 2013
Building: 301
Room: 043
Uses x-ray photoemission in ultra-high vacuum to determine the elemental and chemical composition of the surface of samples. Sensitive to the first 2-5 nanometres of the sample.
High intensity monochromated x-ray source (Al or Ag).
Imaging analyser with magnetic immersion lens for high sensitivity.
Cluster or monoatomic argon ion source for surface cleaning and depth profiling.
Charge neutralisation for working with insulating samples.
Helium UV lamp for valence band spectroscopy.
Preferred sample size: Less than 15mm in diameter and less than 2mm thick. Powders acceptable.