Resonetics Resolution M-50A Excimer Laser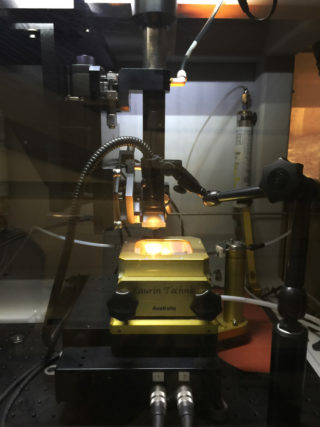 GeoHistory Facility
Manufacturer: Resonetics-Australian Scientific Instruments
Model: M-50
Year: 2012
Building: 312
Room: 116
This instrument comprises a Resonetics RESOlution M-50A-LR incorporating a Compex 102 excimer laser. It is designed to ablate material from a solid sample for introductions to the mass spectrometer(s).
Automation: ICP-MS integration, variety of sample holders, powerful software and sophisticated options for automated data collection.
Mapping: RESOlution instrument features fast cell response, uniform and stable signal, flexible software and a wide range of spot sizes and shapes.
Mineral Analysis: The analysis of mineral samples: flexible fluence control, variable spot sizes, powerful image importing software and extensive integration with a range of other analytical instruments.
Banded Samples: To achieve superior results on banded samples, this instrument offers flexible ablation control, built-in surface cleaning, the all-essential rotating slit module as well as an automated diversion valve.
Contact: Noreen Evans