MAP Mass Spectrometer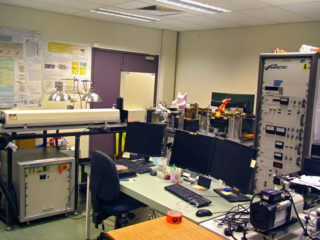 Western Australian Argon Isotope Facility
Manufacturer: Mass Analyser Products
Model: 215/50
Year: 2000
Building: 312
Room: 110
Infra-red laser step-heating extraction line attached to MAP Mass Spectrometer configured for Ar isotope analysis.
Custom built gas purification extraction line.
Two laser step-heating chambers.
One low-blank high-temperature furnace.
110W YAG class IV infra-red laser.
Customised control software for laser and spectrometer.
Able to be remotely configured and operated.
Low-blank automated extraction system.
Contact: Fred Jourdan