GC-MS Systems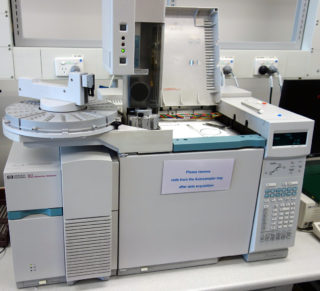 WA Organic and Isotope Geochemistry Facility
Manufacturer: HP
Model: 6890 GC, 5976 MSD
Year: 1998
Building: 500
Room: 322
Routine analyses of biomarkers in sediments and soil extracts/fractions, saturated, aromatic and polar hydrocarbons in petroleum, extracts from extant organisms (plants, algae, corals, stromatolites) and phospholipid fatty acid and sterol analyses. Multiple injection systems including liquid injections and pyrolysis methods.
Split/splitless injector with autosampler or manual injection for liquid samples.
Cool on-column injector.
Micro-scale sealed vessel (MSSV) pyrolysis system.
Flash pyrolysis.
Pyroprobe.
Contact: Kliti Grice