Sensitive High Resolution Ion Micro Probe Facility
The Sensitive High Resolution Ion Micro Probe Facility (SHRIMP) are large mass spectrometers that allow in situ isotopic and trace element micro-analysis of complexly zoned minerals in grain mounts and thin section plugs, with a spatial resolution of 5-20 microns.
We specialise in precise, accurate, high spatial resolution, uranium-thorium-lead geochronology of zircon, monazite, xenotime, titanite, allanite, columbite-tantalite, baddeleyite, rutile, cassiterite, opal, apatite, perovskite, gadolinite, chevkinite, ilmenorutile, uraninite and zirconite.
Techniques
In situ U-Th-Pb geochronology
Ti-in-Zircon geothermometry
Trace element analysis
Depth profiling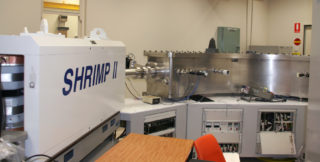 SHRIMP II A
SHRIMP II A is fitted with a Cs source, electron gun and 5 channel multiple collector, valued at $1M, and is currently being developed for stable isotope analysis of O in zircon, titanite, and phosphates, and, S in sulphides.
---

SHRIMP II B
A single collector ion probe doing in-situ U-Th-Pb age dating of zircon, monazite, xenotime and titanite in grain separates and thin sections.
---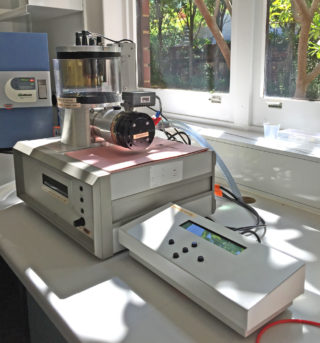 Sample Prep Laboratory
Our prep lab provides fume hoods, ovens, Au/C/Al coating, an optical and reflected light microscope with a digital camera, a micro diamond saw, ultrasonic baths and sample polishing equipment.
---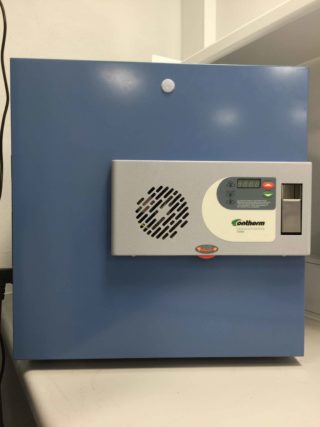 Sample Prep Laboratory
Our prep lab provides fume hoods, ovens, Au/C/Al coating, an optical and reflected light microscope with a digital camera, a micro diamond saw, ultrasonic baths and sample polishing equipment.
Applications
The SHRIMP ion microprobes have revolutionised geology. Just a few of the application areas are listed below.
Early Earth Evolution
SHRIMP U-Pb ages and Ti-in–zircon thermometry of Jack Hills and Mount Narryer zircon have provided constraints on the crystallisation environment of zircon from the earliest Hadean Earth. The oldest zircon on Earth was measured in the SHRIMP Facility.
Standards Development
Micro-analytical techniques all require Reference Materials (RM), and the SHRIMP Facility at Curtin is involved with characterisation of RM of accessory minerals for the geochemistry community.
Geologic Time Scale
The SHRIMP provides accurate geochronological constraints on major global geological events, i.e. correlation of glacial epochs, Large Igneous Province flood basalts and mass extinctions.
Meteorite Impact Structures
The Curtin SHRIMPs have been used in studies of lunar impact breccia, meteorite impact breccia and micro-spherule beds, providing a bombardment flux history and an understanding of impact processes.
Regional Mapping
The Curtin SHRIMP Facility is essential to the mapping program of the Geological Survey of Western Australia, having provided ages for >1200 samples.
Sedimentology
The Curtin SHRIMP has provided detrital mineral populations statistics and xenotime and monazite ages constrain the early diagenetic history of sedimentary systems.
Metamorphism and Crustal Fluid Flow
Research on prograde and retrograde metamorphic reactions, P-T-t loops, fault movement and deep crustal fluid circulation all rely heavily on the Curtin SHRIMP facility, and it's extensive collection of accessory mineral Reference Materials.
Geochronology Technique Development
Curtin SHRIMP researchers study the effects of mineral chemistry, mineral structure, solids solutions, radiation damage and microstructural changes on secondary ion yields and SIMS results.
Paleontology
SHRIMP age data constrains the ages of the earliest mega-fossils and stromatolites.
Ore Deposit Geochronology and Exploration
Research into ore localisation, ore sources, and ore remobilisation by UWA Centre for Exploration Targeting academics, as well as ore deposit exploration by Australian and international mining companies relies on the Curtin SHRIMP Facility.
Plate Tectonics Reconstruction and Crustal Evolution
Accurate SHRIMP age data on intrusive dikes swarms, gigantic flood basalt provinces and granite intrusion is essential for plate tectonic models of super continent formation and subduction related fold belts.
Extra-terrestrial Geochronology and Geochemistry
The age and effects of impacts, thermal history of Lunar samples from NASA and Martian meteorites have been studied on our SHRIMP. The oldest zircons of the Moon and Mars were dated in the SHRIMP Facility.
Igneous Petrology-Volcanology
SHRIMP U-Th disequilibria and trace element data allows us to the study the evolution of a magma chamber in young (younger than 1 Ma) volcanics.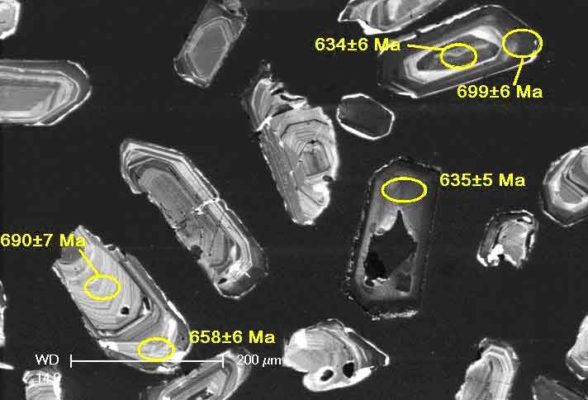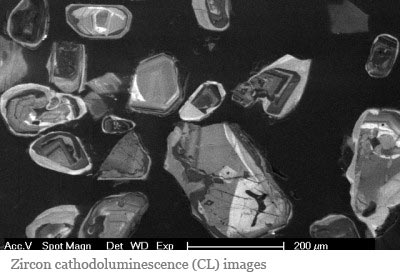 Featured projects
Standards Development
Representative publications:
Metamorphism and Crustal Fluid Flow